S.C. veterans and contractors can proceed with lawsuit over Iraq, Afghanistan burn-pits
S.C. vets, contractors in class action over health issues
By Renee Dudley
More than a dozen South Carolina veterans and defense contractors who allege their exposure to noxious fumes from burning waste dumps in Iraq and Afghanistan led to grievous health issues may proceed with their class-action lawsuit, a U.S. District judge ruled recently.
The suit, filed in South Carolina in June 2009, is among 43 suits across the country that allege fumes from "burn pits" caused cancer, respiratory problems and other illnesses.
Alex Harley of Goose Creek is among the Palmetto State's plaintiffs.
The 34-year-old father had a clean bill of health before leaving for work as a contractor in Iraq in 2006. Harley was exposed to what he called the "indescribably horrific" fumes during the course of his work and returned to the U.S. with myriad health problems.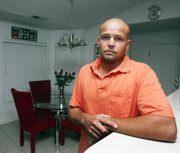 "They check you out completely before they send you over there," he said. "I was completely healthy before I went. Now, I can't work. I can't fish. I can't play backyard football. I can't do any of the things I used to do."
Plaintiffs in the 43 cases say Texas-based defense contractors ignored the terms of their government contracts requiring them to safely dispose of waste, and instead burned everything from tires to human body parts in massive pits.
The Houston contractors, KBR Inc. and Halliburton Co., who received billions of dollars from the federal government, deny the allegations and involvement.
"KBR is confident that the evidence will confirm that it performed waste disposal and water services pursuant to military direction and guidelines," KBR spokeswoman Heather Browne said in a statement Friday.
Halliburton spokeswoman Teresa Wong said in a statement Friday that the company was "improperly named."
"As such, we would expect Halliburton to be dismissed from the suits," she wrote.
The Sept. 8 ruling by a U.S. District Court judge in Maryland came in response to the defendants' motion to dismiss the suits.
Sudden illness
Harley installed radios in Humvees and trained personnel in Iraq in 2006 and 2007 while working as a contractor, though not for one named in the suits. Sometimes twice a day, he transported cardboard boxes and other assorted household trash from his work to the burning dump sites.
Flames, ignited with diesel fuel and sustained with a variety of accelerants, shot hundreds of feet into the sky from pits that were about 10 feet deep, 15 feet wide and about a quarter-mile long, according to Harley and the suit.
The father of two said he had no health problems before the first of his two six-month contracts.
Following the first trip, though, he had pneumonia and eventually developed severe bronchitis, according to the suit.
After returning home from the second stint, Harley's respiratory symptoms worsened, and he lost the skin on his hands, which looked like "raw meat," he says in the suit.
Now, he suffers a host of illnesses, including asthma, chronic bronchitis, severe muscle and joint pain and various skin rashes, he said. His health has deteriorated so much that Harley stopped working last December and now collects disability benefits, which account for just a fraction of his former pay, he said.
Harley called the odor from the flames and smoke "overwhelming."
"They burned human waste from port-a-potties and medical waste from the hospital on-base," he said. "Tractor-loads of everything and anything."
Smoke, which blew in shades from green to black, burned his eyes, he said. Harley said he had difficulty breathing, coughed incessantly and couldn't speak at all for a week while overseas. He constantly felt light-headed, had muscle spasms and cramps and lost his leg hair below the knees, he said.
Harley said he has more than $30,000 in medical bills that his insurance does not cover. He has created a website, www.fightforamericans.org, and is trying to start a nonprofit group to raise awareness about illness caused by burn pits.
Case history
Harley was one of three South Carolina residents last year to file the suit, which requests a jury trial and unspecified damages and attorney's fees to compensate for allegations that include negligence and breach of contract. Since then, more than a dozen plaintiffs have signed on, according to Melissa Allan, a spokeswoman from Mount Pleasant-based Motley Rice, one of two firms handling the suits nationally.
Allan said "a few dozen" additional South Carolinians have inquired about being added to the case. It is not yet clear how many of them will medically qualify, she said.
The first of the 43 class-action suits involving burn pits were filed about two years ago, said attorney Joseph Rice of Motley Rice.
Because they were similar, the 43 suits were consolidated for a U.S. District Court judge in Maryland to review in April.
Attorneys for the defendants asked that the case be dismissed. The request was denied last month. Litigants will appear before the judge in Maryland again later this month, according to court documents.
The plaintiffs include a combination of military veterans and defense contractors, Rice said.
Tonya Lobbestael, a spokeswoman for the Ralph H. Johnson VA Medical Center in Charleston, said doctors there have not treated any patients known to have been affected by burn pits. The Department of Veterans Affairs issued a letter in April saying it would accept claims for burn pit-related illness.
_______________________
Original Article at The Post & Courier
Short URL: http://kbrlitigation.com/?p=1501
Posted by
admin
on Oct 8 2010. Filed under
Burn Pits News
. You can follow any responses to this entry through the
RSS 2.0
. You can leave a response or trackback to this entry